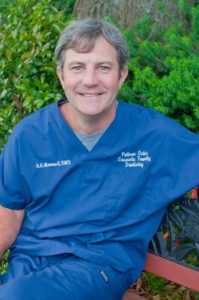 Dr. Trey Morrow
Dr. Morrow is a native of the upstate and was raised in the Carolinas. He attended the University of South Carolina from 1990 to 1994, graduating with a Bachelor of Science in biology from the honors college. He then received his dental training at the Medical University of South Carolina in Charleston, where he graduated in 1998 and began his associateship with Dr. Patrick Breaux later that same year.
Dr. Morrow is a member of the American Dental Association®, the South Carolina Dentistry Association, the Piedmont Dental Society, the American Academy of Implant Dentistry and the Dental Organization for Conscious Sedation. He has had a commitment to advanced training in CEREC same-day restorations for over 20 years. He has also trained with Master Academy, James Kim at Cadstar, Dentsply Sirona Academy and many others. Dr. Morrow has extensive training in implant therapy and completed the Augusta University/AAID Maxi Course in implant dentistry, with over 300 hours of course work and surgical training.
Dr. Morrow and his wife, Beth, have three boys: Haynes, Andrew and Ben. Together, they are active in the community and their church. Dr. Morrow volunteers at the Greenville Free Medical Clinic and Give Kids a Smile events. He is a partner in the United Ways Palmetto Society. In his free time, he enjoys playing and coaching many sports, watching the Gamecocks, and spending time with his family outdoors.
In 2001, Dr. Breaux and Dr. Morrow became partners, creating Pelham Oaks Dentistry.
---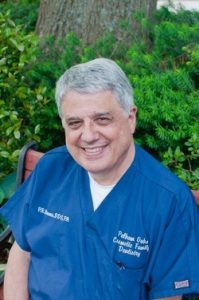 Dr. Pat Breaux
Dr. Breaux is a native of east Texas. He graduated from Lamar University with a Bachelor of Science in biology and chemistry. After graduation, he enlisted in the Navy and served as a Hospital Corpsman assigned to a Marine division. At the end of this tour with the Navy, he enrolled at the University of Texas Dental Branch in Houston, Texas. Upon graduation in 1977, Dr. Breaux continued his tour of duty with the Navy as a dental officer and was stationed at the Navy base in Charleston, South Carolina.
In 1980, he returned to his hometown of Orange, Texas, and opened a general dentistry practice. After a visit to Greenville in 1983, Dr. Breaux decided to relocate to the Greenville area. In 1985, Dr. Breaux established a new dental practice in the Pelham Oaks Shopping Center. In 1989, the practice was moved to the present location. In 1994, Dr. Breaux completed a comprehensive aesthetic restoration continuing education course at Baylor University in Dallas, Texas (the precursor to the Las Vegas Institute). In 2018, he attended LVI for extensive continuing education.
Dr. Breaux and his wife, Catharine, have four children and five grandchildren. Jennifer is a graduate of Clemson University and the Charleston School of Law and is currently living in Texas. She and her husband, Hunter, have three children. Adam is a graduate of Clemson University and the University of South Carolina School of Law, and he is currently an attorney here in Greenville. Adam and his wife have two children. John is a graduate of the College of Charleston and has a master's in accounting from the University of Tennessee. He has his CPA and is currently running an accounting firm here in Greenville. Anastasia, their youngest daughter, is pursuing her love for working with horses as a veterinary assistant at Tryon Equine Hospital.
Dr. Breaux is active in his church and community. He enjoys refurbishing old houses and just spending time with his family.
---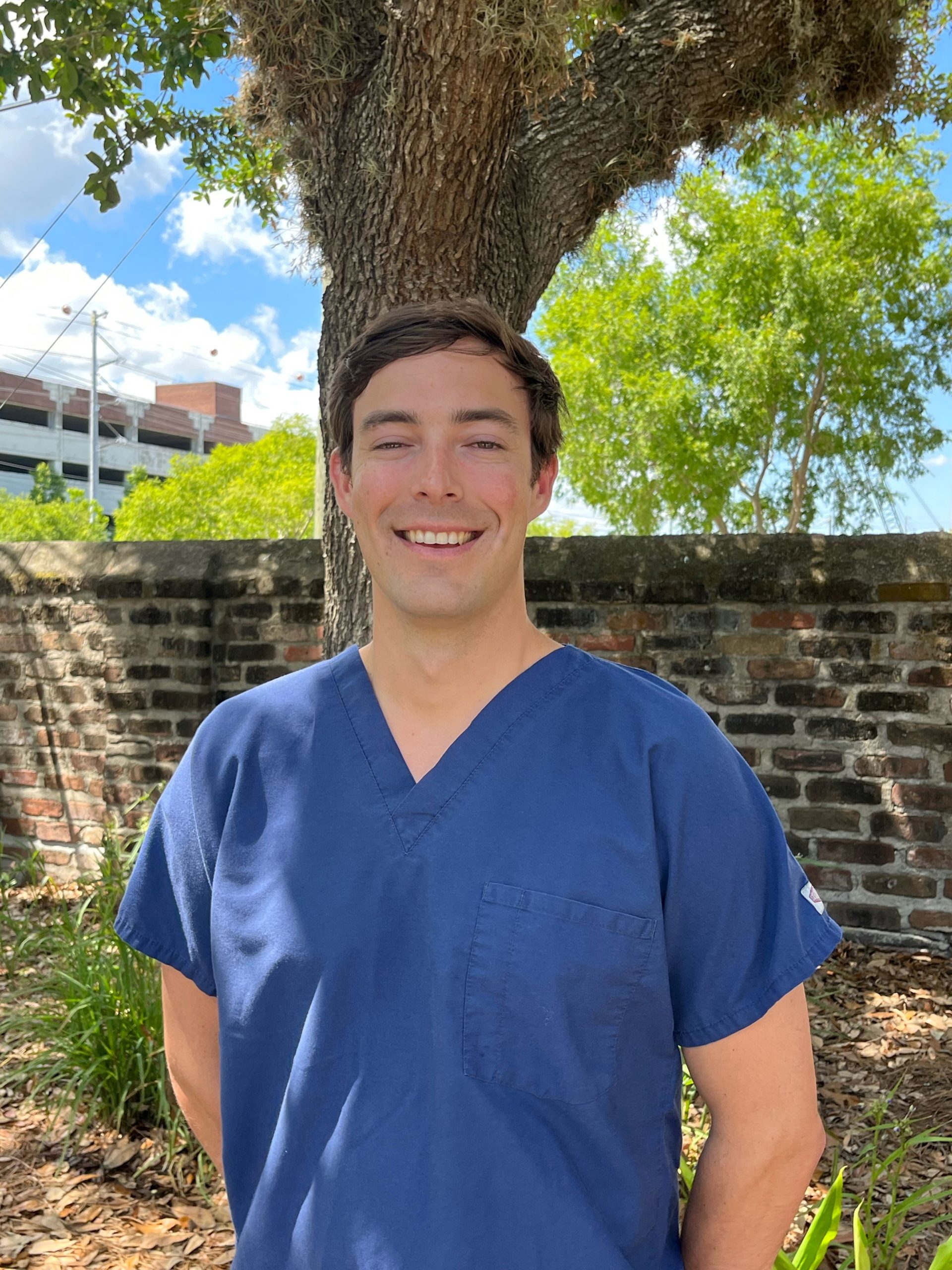 Dr. Charles (Trey) Buck III
Dr. Buck will be joining our practice July 5! Check back to learn more about our new doctor!
---
Meet Our Team
Front Desk: Crystal, Pam, Stephanie, Esasa
As you enter our office, you will first be greeted first by our front office staff.
Pam is our patient care coordinator and has been with our team since 2003. She handles incoming calls, questions and concerns from patients, appointments, check-out, and insurance, among other duties.
Crystal is the office manager and has been with our team since 2009. She began with us as one of our assistants and now helps with the management of our dental team, along with handling insurance claims, billing, and follow-ups on patient reimbursement.
Stephanie is our treatment coordinator and joined our team in 2020. She handles incoming calls, questions and concerns from patients, as well as appointments, check-out and insurance, among other duties.
Esasa is our hygiene coordinator and joined our team in 2022. She handles all things dealing with our hygiene department.
We are blessed with a wonderful front desk team that is an invaluable asset to our practice.
Hygienists: Kathryn, Cory, Samantha
Our hygiene team is comprised of highly qualified and trained continuing care specialists with over 25 years of combined expertise. Our team at Pelham Oaks Dentistry strives to help our patients reach and maintain optimal oral health. Everyone's overall health is significantly impacted by their oral condition, as demonstrated in many medical studies. Keeping your mouth healthy greatly reduces the risk factors associated with heart disease, diabetes and many other systemic problems. By utilizing ultrasonic equipment, our hygienists can effectively treat periodontal disease, as well as prevent future problems from arising in our patients. Kathryn and Cory both joined our team in 2012, and Samantha joined our team in 2022. They are trained in nitrous administration. Administering anesthesia allows our hygienists to ensure that their patients are comfortable during every stage of treatment.
Assistants: Jessica, Ramona, Michelle, Katlyn
We are very fortunate to have an experienced group of dental auxiliaries. All of the members on our dental assisting team are certified dental assistants, and they have many years of experience meeting any patient's needs with exceptional skill. Ramona joined our team in 1998 and has 18 years of experience. Jessica joined our team in 2016 and has nine years of experience. Kaitlyn joined our team in 2022. Michelle has been with our practice off and on since 2006. All of our assistants are well trained in many areas of the dental practice. All four of our assistants are vital to the practice's success.
At Pelham Oaks Dentistry, we are committed to quality and focused on your satisfaction. We offer comprehensive dental procedures with a focus on preventive, cosmetic and restorative dentistry, and other surgical areas. Every patient is treated like family, and we hope you feel at home in our cottage office on Pelham Road in Eastside Greenville, South Carolina.